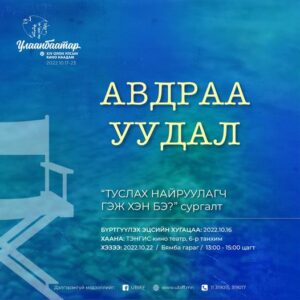 Ulaanbaatar International Film Festival has a section of lab-training to build capacity of local filmmakers.
This year the theme to be covered is First Assistant Director, which will be led by Anne Chapelot, a French 1st Assistant Director. Passionate about the cinema since her teenage hood, she has quickly found her place in the Indie & Artsy fiction shootings. Specialized in this area, she knows how to combine high artistic demands with movies that are often complicated to finance. And about being an Assistant Director, Anne considers that her work isn't only about the time and scheduling. But it's as important to have an artistic sensibility and to understand the Director's universe. She has worked on several feature and short film projects, including Meantime (2022), Carne (2021), Spell on You (2021), Trip to Santarem (2021), My Best Part (2020), and Romance, X and Y (2019).
Training will take place from 22nd of October, 2022 at 1:00 PM – 3:00 PM in Tengis cinema.